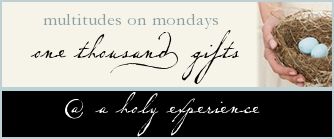 The definite highlight of last week was going out with my daughter on Friday for a movie, dinner, and shopping. Amber has swim team practice every night and week-ends are almost always busy. Practice was held early Friday morning instead of Friday evening, so we took the opportunity to have a fun late afternoon/evening out together. We went to see "In Time," ate at Panera, and shopped all evening at Kohl's. We had such a wonderful time! We talked and laughed and just enjoyed each other's company. I kept thinking the whole time how grateful I am that my daughter and I are still so close when she's almost 15.
141. I am so thankful for my teenage daughter and our close relationship. I can't even think about her leaving for college without starting to get misty-eyed.
142. Hot showers on cold mornings. Every morning I feel blessed to have the luxury of very hot, running water... and I try to never forget that it is indeed a luxury.
143. Movie theater popcorn.
144. Even though I sometimes wish that we had a wood-burning fireplace, I am very grateful for our gas fireplace that we can just turn on.
145. I am so thankful for our dog, Hershey. She is always willing to jump in the car to take our daughter to very-early-morning swim team practice and she is almost always right by my side when we are at home. She's usually napping, but she's there!
146. I am so grateful that, so far, my mother's congestive heart failure is able to be managed with medication and attention to her diet.
147. The new caramel sundae at Burger King. I was so disappointed when McDonald's stopped serving caramel sundaes quite a while back...and now they're at Burger King!
148. The stores are starting to put out Christmas decorations!
149. My large-capacity gas-powered clothes dryer.
150. My large-capacity electric powered clothes washer.
151. Wireless internet service in our home.
152. I am thankful for my middle son's interest in playing the electric guitar and the fact that he learned to play "Joy to the World" just for me.
153. A new cake-pop maker that I purchased on the delightful shopping trip with my daughter. I can't wait to make cake pops for Christmas.
154. My reading glasses - even though they make me feel a little old.
155. Longaberger baskets - even though my husband and I don't buy them anymore, I treasure the ones we purchased in the early years of our marriage and I love the way they look in our home.
156. Yummy, yummy pumpkin caramel latte scented soap from Bath and Body Works.
157. My very pretty planning pages from Mom's Toolbelt. I love organizing my customized planner with the pretty pages from this subscription website.
158. Singing Christmas carols at church...soon.
Thank you to digitalart at Free Digital Photos for the picture of the popcorn and movie ticket.